Kilimanjaro Safari Holidays DMC offers Zanzibar beach bookings and useful advice. Diving and budget beach resorts booking is now easier to book. Travel tips on best beach resorts and beach hotels with diving centers nearby. Cheap beach resorts and budget Zanzibar hotels are available for beach holidays. Budget accommodation in Zanzibar island include cheap beach resorts in East Coast, Paje and Jambiani Zanzibar. Cheap beach hotels include Nungwi and Stone town hotels like Maruhubi beach villa and Mtoni Marine.
Mwaka Kogwa is amazing culture event during beach holidays in Zanzibar. Travel tips useful to plan and book beach holiday is to know what side of Zanzibar to go. Best place to choose for beach holiday in Zanzibar is South Eastern Zanzibar. These places have nice beach resorts with white sand beaches and near Diving centres. Southern eastern part of Zanzibar recommended are Paje, Jambian and Makunduchi. Mwaka Kogwa is culture event of Persian origin which is very famous and occurs in July and August. Affordable room rates in Paje, Jambian and Makunduchi areas is one benefit which suit budget pocket of all tourists. Book leisure holidays and adventures combo tours in Tanzania. Climbing Mount Kilimanjaro, wildlife safaris and beach holidays which can take from 7 days, 10 days, 14 days to 21 days, book online now. Send us an email: [email protected]
Beach resorts and hotels affordable are Cristal beach resort, Blue Oyster beach hotel, Reef beach resort and Matemwe beach villages in East Coast. These beach resorts are cheap, quality and meet your budget. Services are quality to international standard and you enjoy holiday in Zanzibar. Diving and snorkelling is near to resorts.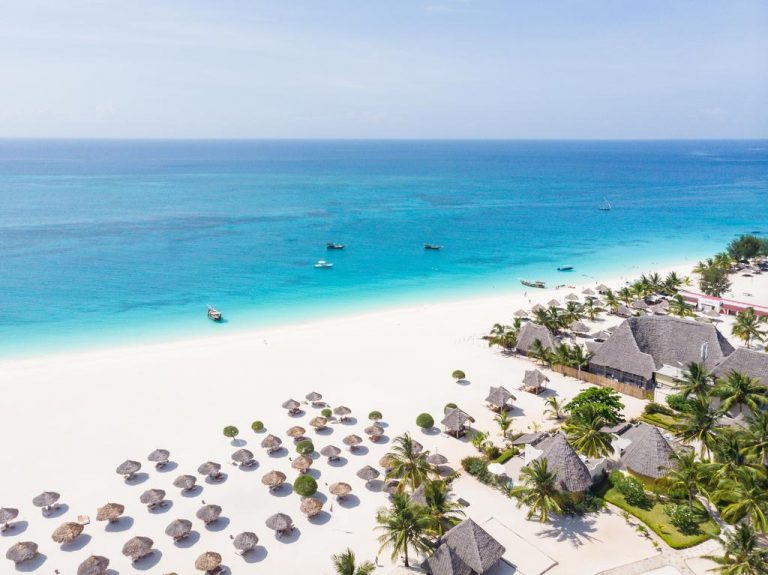 Zanzibar Beach Resorts, Hotels in Zanzibar Island. Zanzibar Archipelago is made up of small islands of Unguja and Pemba. Stone town is the first town to enter when going to Zanzibar. Stone town comprise of Airport and harbour which are entrance media to Zanzibar.
Scuba diving, snorkeling, sport fishing are some of famous activities to do in Zanzibar Beaches.
Jozani forest, Dolphin tour, Spice plantations, Prison Island are some of the tour excursions in Zanzibar.
Beach hotels in Zanzibar range from 2* to 5* according to facilities, location and comfort.
4* and 5* beach hotels and beach resorts are mentioned below:
Ras Nungwi Beach hotel, Z hotel, Mapenzi Beach Hotel,Blue Bay beach Resort and Spa, Zanzibar Sea cliff and spa and Resort, Karafuu Hotel Beach Resort, Breezes Beach club, Zanzibar Serena Hotel, Protea Hotel.
There are also budget beach hotels with nice rooms and environment like Mtoni Marine beach Hotel, Tembo Beach Hotel, Mbweni ruins, Maruhubi beach villas and many others.
The price for these Budget Hotels ranges from 50 US $ per person per day to 75 US$ per person per day.
Famous locations for beach holidays in Zanzibar are Nungwi,  Matemwe,  Kiwengwa and Paje. There are standard beach hotels and beach hotels which are affordable to most tourists. They have pristine white sand beaches for sun bath swimming, diving and snorkeling. Pongwe beach,  matemwe beach,  amaan beach, mnarani beach cottages, kendwa beach, Zanzibar royal beach, beach bungalows, Cristal resort, coral reef resort, dongwe beach views, Blue oyster hotel.
Diving centres include mnemba Atoll and Mafia island beach resorts.
Email: [email protected]
Beach holidays
Book cheap beach holidays in Tanzania is now available at a range of Zanzibar beach resorts. Zanzibar beach resorts are available in various standard according to budget and interest. Cheap beach resorts, medium beach resorts and luxury beach hotels.
After climbing Mount Kilimanjaro tours or Tanzania safari, it is easier to extend your Tanzania holiday for beach holidays in Zanzibar island. Machame route or Rongai route uses 6 days to trek to summit and descend down to Kilimanjaro gate. Lemosho route is most scenic Kilimanjaro route and need minimum 7 days. All Kilimanjaro routes can allow you to take longer hence tourists can add extra day. Amazing volcano experience is available when tourist book night at Kilimanjaro crater near Kibo.
Tanzania is a home to most beautiful tropical beaches in tropical vacation holidays. Tanzania beach areas include Mafia Island, Mafia Marine Park, and Zanzibar Island, Bagamoyo beach, Pangani beach, Tanga beach and Lake Victoria beach.
Some of best beach Hotels and beach resorts in Mafia island are Pole Pole Resort, Mafia Island Lodge, Kinasi Lodge
Zanzibar beach hotel and beach resorts include Blue Oyster Hotel, Amaan bungalows, Matemwe beach, Cristal reef resort, Coral Reef pwani, Dongwe ocean view, Pongwe beach and more.
Famous locations in Zanzibar for beach holidays are Nungwi Matemwe, Kiwengwa and Paje.
It is convenient and easy to do a combo tour package in Tanzania. It depends on length of vacation holiday a tourist have in Tanzania. Some travelers can book climbing kilimanjaro tour and beach holiday. It can be 6 days machame route climbing kilimanjaro and 5 days beach holiday in zanzibar or mafia island. Choice of climbing mount kilimanjaro route will depend on interest and origin of kilimanjaro climber.
Wildlife safaris in Tanzania can be 5 days to 7 days and 5 days beach holidays in Mafia Island or Zanzibar island.
Inquire now: [email protected]
Safari Blue Zanzibar Tour Excursions. Our safari blue is tour excursions to explore attractions in the Indian ocean, and beach. Safari Blue started in 1996 and is a tour to the village of Fumba a 20-minute drive from Stone Town. Fumba village have tourist destinations and natural attractions like wildlife, isolated sandbanks,coral reefs and rugged island scenery of the Menai Bay Conservation Area.
Kilimanjaro Tanzanite Safaris Ltd organizes tour to see the dolphins, sandbanks, islands and coral reefs of Menai Bay, a beautiful conservation area. In the morning Zanzibar Blue safari will be to on one of the beautiful sandbanks where one can relax, swim or snorkel. Other activities are Ngalawa Sailing and Dhow Sailing, Jozani Forest and Spice Tour to discover amazing beauty of Zanzibar island beach.
Dhows are traditional sailing boats, well hand-built from African mahogany and completed to the very highest standards. They are comfortable and well equipped with outboard engine, VHF marine radios, gas inflatable life jackets, sunshade, boarding ladder, waterproof bags and first aid kit. We hold marine and public liability insurance.
Accommodation will be in high quality beach resorts and spa, beach hotels, beach bungalows and Island beach Lodges.
Wildlife safaris Africa package should be complete when Beach holiday is included. Tanzania safari tours of 5 days, 6 days, 7 days tours have high reviews and most recommended. Tanzania wildlife safari reviews advise low budget travelers to choose budget camping safaris Tanzania. Camping sites in Tanzania national parks, game parks and Ngorongoro conservation areas have all facilities for comfortable and enjoyable travel.
Contact us to book combo tour, on climbing mount kilimanjaro, 4 x 4 game drives wildlife safaris and beach holidays.
Email: [email protected]
Beach resorts in Zanzibar island recommended for holidays
Planning for holidays in Zanzibar need information on which beach hotels and resorts with beach holiday activities like diving, snorkelling, safari blue and affordable room rates.