Every year we update full moon Kilimanjaro climbing dates. We help you to plan the hiking dates so that you summit Kilimanjaro on a night with a full moon. Kilimanjaro Tanzanite Safaris DMC offers exciting Kilimanjaro trips, with awesome trek experiences. Climbing Kilimanjaro on full moon dates is an exciting mountaineering adventure lifestyle. Nevertheless, we provide you with profound information on Kilimanjaro routes, and you can compare.
Kilimanjaro summit trek on full moon date is a more thrilling adventure experience than normal climbing dates. You will see Snow and glaciers with the full light of the full moon at the roof of Africa, the Kilimanjaro. You can get budget adventure travel deals and group booking discount Kilimanjaro trekking prices.
Mount Kilimanjaro climbing planning to coincide with full dates is all set with dates below: These are dates which are supposed to be the day of going to the summit; hence you begin trekking 4 days earlier or 5 days earlier. Worry not; contact us for proper planning and booking. Now, read the full moon dates to summit Kilimanjaro to the Kilimanjaro Uhuru peak.
Email: [email protected]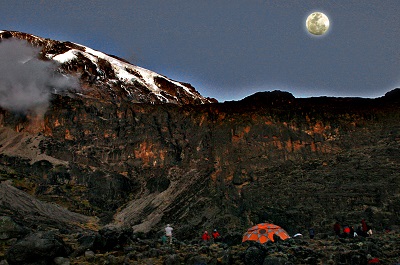 2022/23 full moon dates
New moon
First quarter
Full moon
Last quarter
6 January
14 January
21 January
28 January
5 February
13 February
19 February
26 February
6 March
14 March
21 March
28 March
5 April
12 April
19 April
27 April
5 May
12 May
19 May
26 May
3 June
10 June
17 June
25 June
2 July
9 July
17 July Lunar eclipse
25 July
1 August
7 August
12 August
27 August
30 August
6 September
10 September
26 September
28 September
9 October
14 October
25 October
28 October
8 November
12 November
20 November
26 November
7 December
12 December
19 December
23 December
3 January
10 January
17 January