Kilimanjaro Tanzanite Safaris DMC presents Kilimanjaro route details, for comparison and choosing the best favorite trail for you. Kilimanjaro route details help mount Kilimanjaro climbers choose the best suitable route. Tourists who are planning to trek Kilimanjaro can compare Kilimanjaro trails.  Kilimanjaro routes are recommended in priority, climbers can consider Kilimanjaro trails in priority from 1st Onwards. These hiking tips help to make booking Kilimanjaro trips easier. And advises the choice of a Kilimanjaro route for a private Kilimanjaro expedition.
Email: [email protected]
Northern Circuit. The new route with few climbers has an excellent way to acclimatize and has beautiful scenery during climbing Mount Kilimanjaro.
Lemosho route. Fantastic Kilimanjaro beauty is seen and has the best acclimatization.
Machame route.  Has wonderful scenic views and good acclimatization, better if you take 7 days travel package.
Rongai is another favorite option for trekking Kilimanjaro because hiking is not steep has a sense of wilderness scenery and only a trail with a panoramic view of Mawenzi's rugged Volcano the peak at Saddle camp. Rongai trail is preferred if you want to climb in rainy months like April, May, and November. This is because on the northern side of Kilimanjaro there is little rain and usually drier than other Kilimanjaro routes. For elder people and even first-time climbers, the Rongai route is most recommended because has a gentle rise up, and a short time traverses to the Kibo Uhuru peak.
Marangu is the first to be well established earlier than other Kilimanjaro routes. The Marangu route was used by the first European Explorers to climb Mount Kilimanjaro to the summit successfully. Hans Meyer was a German geology professor and the son of a wealthy editor from Leipzig, who hiked to the summit for the first time in 1889 successfully. Hans Meyer was accompanied by Ludwig von Purtscheller, an Austrian mountaineer, and a local guide Yohana Kinyala Lauwo. Yohana Lauwo was also a scout army and was appointed by Chagga Chief. Hans Meyer and Ludwig started their adventure journey from Mombasa where they first saw glittering mountain peaks from far away. Hans Meyer was the leader of the trek and he is the one who set up the first camps which then were modernized to be Mountain huts. Mount Kilimanjaro ascent through the Marangu route uses mountain huts as accommodation during the journey to the summit. All other Kilimanjaro trails depend on tented camps for overnight in the Mountain.

Refer to german travel Magazine here

.
The Umbwe route is very tough and challenging climbing, only suitable for highly experienced Mountaineers; however, the Umbwe route scenery is very beautiful.
Forest trekking trails offers extra scenery with famous wild flowers like kilimanjar impatients, lobelia and more. We recommend Rongai route, and Lemosho route for those climbers who need forest tour experience. In addition to forest treks, more benefits of Lemosho trail, and Rongai, are the Kilimanjaro routes which are most suitable for beginner climbers. our Kilimanjaro guides, advise First-time hikers to consider Rongai route 7 days.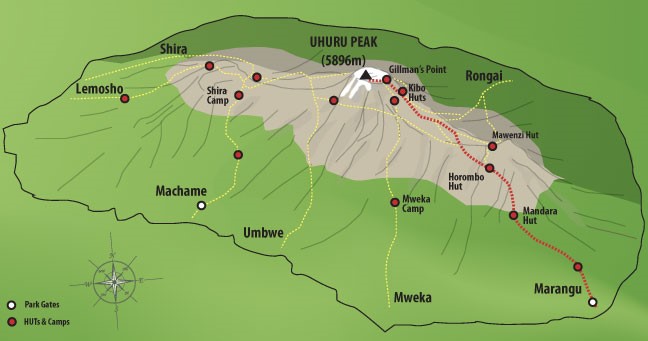 The Rongai route and Lemosho route are 2 trails that have wilderness terrains and fewer climbers. If you want to climb Mount Kilimanjaro with fewer tourists, you can choose between the Rongai route or Lemosho. Also, here we can help you analyze the Rongai route and the Lemosho route so that you can choose one. Lemosho route provides hike high, walk down, and sleep low at Karanga valley and hence acclimatize better. The Rongai route offers a gradual slope with attractive places for the campsite at a regular intervals and hence reduces fatigue.