If you want to climb Mount Kilimanjaro, it is worth reading and knowing most Kilimanjaro facts.  Kilimanjaro is located just (Location: 3.07 S, 37.35 E) near the equator. Mount Kilimanjaro is located exactly in Tanzania and Kilimanjaro peak is covered by snow throughout the year. Kilimanjaro rises abruptly from the open savanna plains, its top peak by snow and frequently fringed by clouds in some months. Mount Kilimanjaro is the highest Mountain in Africa 5895m/19340 ft. the only Mountain in the World with a perfect symmetrical crater. Also, Mount Kilimanjaro can be seen from a distance of over 150 km on a clear day, with its snow-capped peak visible from several viewpoints in surrounding areas.
Mount Kilimanjaro won several prizes and hence was recommended as a prime climbing destination. In 2013, the World Natural Wonders organization runs a competition vote among many African tourist attractions and Mount Kilimanjaro became among the New 7 natural wonders of Africa. Mount Kilimanjaro climbing trip is responsible for travel adventure because Tanzania national park conducts ecotourism ethics such as conservation for sustainable development.  KILIMANJARO is the highest mountain in Africa and the tallest freestanding mountain known to man. Tourists can climb Kilimanjaro for more than 90 kilometers, gain 4 000 meters in altitude, and traverse rain forests, moorland, alpine desert, snowfields, and ice cliffs. When you climb Kilimanjaro on any route you choose, you will travel across 5 climatic ecological zones. Here, is your Kilimanjaro guide, and will help you answer all mountain climbing tips.
Also, it is worth comparing Kilimanjaro with all the 5 highest mountains in Africa, Kilimanjaro is the number one highest-altitude Mountain in Africa, with the Kibo volcano peak reaching 5895 m above sea level. Kenya ranks second. The third highest Mountain in Africa is Mount Stanley, which lies on the Ruwenzori range. Mount Meru ranks 4 and Many people hike Mount Meru to prepare for Mount Kilimanjaro. While Ethiopian Highlands is the fifth highest mountain in Africa, The Ethiopian Highlands share similar flora and fauna to other mountainous regions of Africa.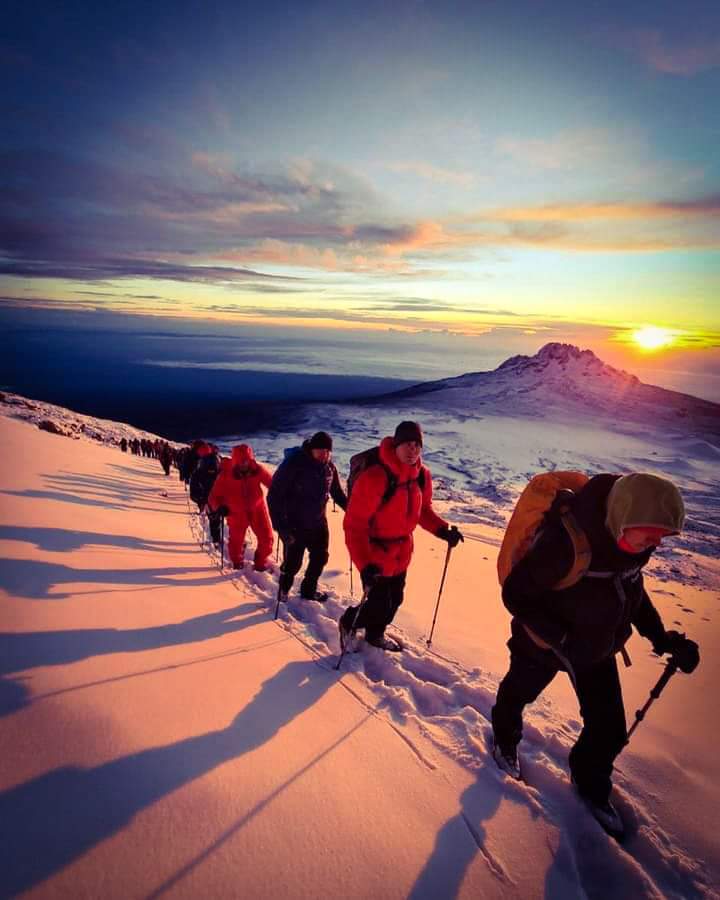 Topography
Kilimanjaro rises from plains at approximately 2000 meters, right up to 5 895 meters. An ancient volcano, it now lies dormant except for some telltale signs of fumaroles in the ash pit. Two other peaks, namely Mawenzi and Shira, flank the main peak of Kibo. These peaks form spectacular photographic backdrops when viewed from various vantage points along the routes to the summit. The different routes to the summit pass through five ecological zones, the cultivated lower slopes, Montane forest, heath and moorland, alpine desert, and the ice-capped summit. The lower slopes of the mountain are mainly used for agricultural purposes.
The climate here is ideal for the production of coffee, an industry that Tanzania is famous for. Further up, a rainforest belt encircles the mountain up to about 2 00 meters. As you proceed higher, you pass through the heath which changes into moorland, semi-desert at altitude, progressing into the total desert, and finally into an alpine region with permanent ice glaciers. The higher slopes are covered with a screen, and loose stones resembling gravel, making it more difficult to negotiate. The main glaciers edging their way down the slopes of Kibo are Heim, Rebmann, Decken, Arrow, and some smaller ones. These glaciers are from the permanent ice cap of the mountain, although they are, as a result of global warming, believed to recede each year.
Climate
Kilimanjaro is located  3 degrees south of the equator, therefore, is influenced by the passage of the Inter-tropical Convergence Zone. There is a constant feeling of summer, and there are two rainy seasons to keep in mind. The highest rainfall occurs from March lasting until about the end of May. This is monsoon time. Slightly less rain falls during the short rainy period, which occurs from around October to November, but can extend into December. Apart from these factors, climbing Kilimanjaro remains fairly constant throughout the year.
The maximum rainfall occurs in the forest belt, where it can reach up to 2000 mm per year. At the summit, which can be, describe as a "high altitude desert", the rainfall reaches less than 100 mm per year. Rain (and snow at higher altitudes) can, however, be encountered at any time of the year. The average temperatures at the foot of the mountain are 25°-30° C and on the summit, it can range from minus 10° -20° C. At 3000m the day temperatures range from 5°-15° C, and at night frost is normally encountered. Clearly, a large variation, making it more interesting to summit the mountain.
When you have some budget for adventure travel, it is worthwhile choosing Mount Kilimanjaro. Kilimanjaro is among the 7 summit world's highest peaks and is the easiest Mountain to climb. No skills are needed to trek Kilimanjaro successfully, It is a nontechnical Mountain to climb.  More than 22,000 climbers set out every year to conquer the Kilimanjaro peak. Several well-marked hiking routes lead to the summit of the mountain. To use the word "climber" is not always correct. Although none of these hiker's routes really requires mountaineering skills, hiking to the "roof of Africa" is physically and mentally demanding and should not be underestimated. As much as 40% of those who set out to climb Kilimanjaro turn back before they reach Uhuru Peak.
Today, hikers make up the bulk of all those who conquer Kilimanjaro, and the mountain is, in fact, one of the highest peaks accessible to hikers in the world. Of course, there are extremely severe climbs available, including some grade 3+ climbs, but those we leave to the professional alpine climbers and experienced mountaineers. The information on this website is primarily concerned with the hiking routes, which "the average hiker" can follow successfully. With adequate preparation, any reasonably fit person above the age of 12 years can reach the summit successfully, in fact, the oldest person to date to reach the summit was Frenchman Valtee Daniel at the age of 87!!
Preparation both physical and mental is the keyword for success– this website contains valuable and comprehensive information obtained from 9 years of experience and through feedback from more than 4300 clients. We believe it will positively contribute to your chances of successfully conquering Kilimanjaro. Every travel destination has a legend on how it was discovered. Mount Kilimanjaro's snowcap can be seen from far away; hence many people can ask themselves what is that. Christian missionaries and trade explorers in East Africa decided to try to reach and know about snow caps. The missionary Rebmann of Mombasa in 1848, first reported the existence of Kilimanjaro.
In 1861, Several German missionaries started attempts to climb Kilimanjaro. These were Baron Carl Claus von der Decken and the young British geologist Richard Thornton (1838–1863). They climbed to the height of 8,200 feet (2,500 meters). Another Kilimanjaro trekking attempt was in 1862; Von der Decken tried a second time together with Otto Kersten. They trekked to the height of 14,000 feet (4,280 meters). More efforts to climb Mount Kilimanjaro continued in 1887, at this attempt to climb Kilimanjaro, the German geology professor Hans Meyer reached the base of Kibo but was forced to turn back, not having the equipment necessary to handle the deep snow and ice on Kibo.
In 1889 Meyer returned to Kilimanjaro with the celebrated Austrian mountaineer Ludwig Purtscheller for a third attempt. Their climbing team included two local headmen, nine porters, a cook, and a guide. The success of this attempt, which started on foot from Mombasa, was based on the establishment of many campsites with food supplies so that multiple attempts at the top could be made without having to descend too far. Then they successfully climbed to the summit on October 6, 1889.
Best Season For Climbing Kilimanjaro
The warmest months with the clearest trekking days, are from mid to late December, January, February, September, and October. The rains often come in April and the start of May with the possibility of some snow. June through August is superb trekking months, though evening temperatures tend to be colder. The wettest months are November and early December when snowfalls are likely. Note, however, that as this is a mountain it is not impossible to get sporadic snow or rainfall at odd times throughout the year. Many people like to arrange their summit around a full moon and Christmas and New Year are very popular.
Other things to consider when planning to climb Kilimanjaro are the airport near Mount Kilimanjaro, and Mount Kilimanjaro equipment. Kilimanjaro International Airport is the nearest airport to land, for trekking Kilimanjaro. It is advised to make your first overnight in Moshi town, a town located right at the foothills of the mountain. The Kilimanjaro equipment, is accommodation facilities like Alpine tents, and mattresses, while personal support gears are for the climber such as Sleeping bags, mountain boots, trekking poles, etc. We have a list of Kilimanjaro packing lists for each climber.
There are trails that take you to the Kilimanjaro summit. Kilimanjaro Routes, Kilimanjaro trekking routes are; the Machame route, Marangu, Lemosho route, Umbwe Trail 6 days, Northern Circuit route, Rongai 6 days, and Shira route
Machame route Kilimanjaro Climbing with beautiful scenery, best acclimatization, and best climbing experience. Kilimanjaro. The route is the most popular because it offers the best view of the entire mountain and has the most different kinds of habitats. Also, Machame route climbers will meet with hikers who took the Lemosho route at the Shira Camp. The Machame route will be 2 days, while for those who chose the Lemosho route, will be 3 rd days. Machame route trekking prices vary between 6 days Kilimanjaro climb package and the 7 days Machame route package price.
Umbwe route is one of the shorter but also one of the more difficult routes to reach Uhuru peak–but quite spectacular. Umbwe is known for its caves. The first night you actually sleep at the Umbwe Cave Camp with two more caves that can be visited on the route the following day. Also sometimes used as a descending route.
The Shira Plateau is one of the most scenic and fascinating areas on Kilimanjaro. Depending on the weather conditions you can drive by 4-wheel drive vehicles, to within a 1/2 hours walk of Shira Hut (4000m). Even this drive is very spectacular indeed and offers some magnificent views of Mt Meru and the Great Rift Valley in general. Game is often sighted and the road features some striking vegetation changes ranging from forest, grassland, and heath to moorland. The fast ascend by vehicle to about 4000m will require additional acclimatization, after which it will be possible to ascend Uhuru Peak either via the Western Breach or via the Barafu Hut.
Mweka Route
This route can only be used as a descending route for all the western routes.
Lemosho Route
It is a remote, unspoiled, and very beautiful route to the Roof of Africa. The forest around the Lemosho Glades is rich in big game animals such as elephants and buffalo, which may sometimes require a game ranger to accompany climbers on the first day. This route, however, along the route which requires 7 days for a comfortable completion, which also makes it more expensive. More advantage of choosing the Lemosho route is that visitors will encounter animals like giraffes, Zebra, Eland, and gazelles on their way before reaching the Londorosi gate. Have a look at the Lemosho route itinerary, and ask for the Kilimanjaro climbing package price.
Rongai is the second easiest and gentle to climb Mount Kilimanjaro after Marangu. The route may only be used for ascending and the Marangu route must be used for descending. Rongai Route is one of the easiest routes to the Kilimanjaro summit. It is less crowded than the Marangu and Machame routes, and the going is relatively easy.  The Rongai route is quiet, with camping, and wilderness, with double experience on Kilimanjaro also Marangu trail descent. Have a look at the Rongai route itinerary and trekking price offers.
Kilimanjaro's Climbing Tips
Climb slowly to increase your acclimatization time and maximize your chances of reaching the summit.
To avoid altitude sickness, allow a minimum of five nights, preferably even more for the climb. Take your time and enjoy the beauty of the mountain
Choose a company that is licensed and has excellent TripAdvisor reviews. The Legal company has employed Well trained and experienced Mountain Guides. Listen to them, and will enable you to reach Mount Kilimanjaro summit. These Guides are Friendly and will tell you various stories and knowledge about Mount Kilimanjaro, they are so friendly
Take Enough Bottled Water with you. Water is very important. Kilimanjaro Travel and Safari Adventure Services will buy mineral Bottled Water enough for you
also Chocolate and Biscuits with Glucose will help you on Summiting day. Kilimanjaro Tanzanite Safaris LTD will provide you with all these plus Rich enough food, including vegetables and Fruits. Our Porters and cooks will take care of you under the Supervision of Guides.
First Aid Knowledge and KIT is very essential.
We have enough Facilities to handle a traveling group from 2 people up to 48 people
Our Professionalism, experience, and Reliability always are keeping improving as we serve more customers.
If you want to book a Kilimanjaro trip, the in. If you still don't have a decision, you can contact Kilimanjaro trek expert booking consultants for free advice.
Contact emails: [email protected]