Arusha horse riding adventures and Zanzibar horse ride vacation adds to your beach holiday to the best experience. In addition to your Zanzibar beach holiday, there are several activities you can do such as diving, yacht sea cruises, catamarans sea cruises yacht Zanzibar, sport fishing, and horse riding adventures in Nungwi Zanzibar.
Horse rides in Arusha is another ecotourism safari adventure trip available. Horse riding in northern Tanzania is run and managed at the equestrian base located outside Arusha city, at the USA river area. While you are not on safari or before the Kilimanjaro trek, horse riding is the solution. The horse base is located at an altitude of 1400 meters above sea level, offering an ideal climate for horses and riding. The stables have a magnificent view of Mount Meru, with Mount Kilimanjaro emerging itself in the North on a clear day.
Use our unique search to find your dream riding holiday. Choose from over 22 destinations, compare companies and read reviews. Riding Holiday Directory, get all deals at this site.
Horse riding can take you through the natural wilderness of Tanzania. Horseback safaris are a form of adventure outdoor travel loved by most adventure travelers. Horse riding safaris in Tanzania can be done on Mount Kilimanjaro slopes, equestrian farms. Also, stable riding and Savanna can take place in areas around national parks like Lake Manyara. You choose which Adventure Outdoor Travel from Horse riding, walking safaris, Horse riding, stables, and equestrian. Stable farms and equestrian are not common in Tanzania.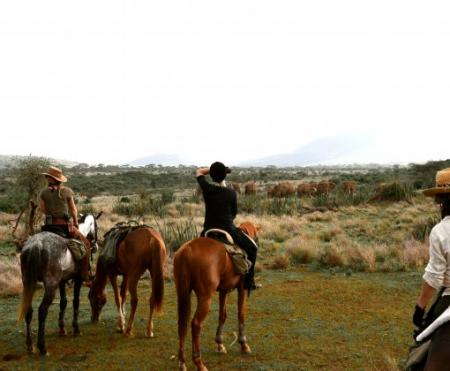 Vacation travel packages with Horse riding on the Slopes of Mt. Kilimanjaro and Ngorongoro Conservation Area are an amazing way to do ecotourism safaris. Kilimanjaro Tanzanite Safaris DMC offers combo East African safari such as Mount Kilimanjaro climbing trip through Machame route, then add up 2 days horseback safari makes total wonderful 10 days of an adventure. You can also do 7 days of Kilimanjaro trekking for a better way to acclimatize and add a one-day horse ride tour. Another option is Kilimanjaro trekking for 7 days through the Lemosho route plus 2 days horseback safaris make the total exciting tour. Climbing Kilimanjaro through the Lemosho route is will enrich the climber's soul with wilderness nature. Choosing the Lemosho route tourists can do walking safaris, nature trekking, volcanic tours, rock climbing, climbing, and hiking to Kilimanjaro summit. 8 days Lemosho route has more success rate to reach Kilimanjaro summit because climbers have enough time to acclimatize. Book, confirm, pay a deposit and receive a discount voucher.
Email us now:  [email protected] and WhatsApp +255767811095
Horse riding with interest for wildlife viewing tour, sightseeing, cultural tour is accomplished at private conservation area with a lot of animals. Some of the wildlife animals are Elands, Zebras, various kinds of antelopes and gazelles you might spot one of the most elegant and rarest mammals found in Tanzania, the Gerenuk.
After a safari you can enjoy the refreshing change from being enclosed in a safari vehicle, explore the farm and its environment. We offer our guests an intimate and personal horse riding holiday, affording them the best that East Africa has to offer in terms of African safaris. Our horseback safaris are highly personalized, very much off the beaten track and away from human settlement. You will be accompanied on all rides and activities by your hosts ensuring that your riding holiday will be a truly memorable one.
Horse riding safaris give you the ultimate outdoor feeling of being in the wild, whilst not being confined to the inside of a safari vehicle. Please first familiarize yourself with the concept of horse riding safaris by having a look at our 'Info and Experience levels' page, which will help you decide what type of safari best suits your riding experience, to maximize the pleasure you get out of your experience.
The food is always prepared fresh and most of the ingredients are produced on the farm. This includes most vegetables, meat, milk, and milk products. Expect to find freshly home-baked bread on your table every morning, as well as homemade pastries in the afternoon.
Guests can relax in camp during the day, or take in the variety of wildlife and cultural activities that are on offer. Guided full or half-day walks (where the emphasis can either be on game or bird watching), game drives, and night game drives. You can also visit local Maasai villages to photograph and buy authentic beaded jewelry. Multiple-day rides are also possible by prior arrangement. Day trips to Arusha National Park and Kilimanjaro National Park are also easily arranged. During your visit, whatever activities you choose, you will likely visit the treehouse where you can watch the game at the waterhole.
Lake Manyara/Tarangire: Horse Riding Safaris
Our well-trained safari horses are available to explore nature and scenic wilderness and surrounding village areas. There being few stones or holes in the area and plenty of games, this is a wonderful area for horse safaris. Day and multi-day rides with fly camps will be led by our skilled equestrian guides. Horse riding safaris can only be booked by experienced riders.
Night Game Drives
Late afternoon game drives can extend into the night after a sundowner in the bush. Night drives enable visitors to see the nocturnal game rarely seen during the day. Spotlights are used by our trained guides in such a manner that ensures the animals are not disturbed.
Horse riding: Ngorongoro Conservation Area
Our primary goal is to provide our guests with the opportunity to escape the crowded realm of the tourists for a day and experience the pristine wildness/landscape on horseback through the local villages. One of the most enchanting experiences of horse riding is the pause in the heat of the day to picnic in the restful shade of the majestic trees and savor the sounds and scents of Africa all around you.
Finally, make it with the wildebeest migration in Serengeti. Add nature and complete your tour with Serengeti National park tour. Serengeti features wildebeest migration, endless plains, kopjes, rivers, lions hunting, leopards, crocodiles, and more animals. Depending on your time, make it 3 days in Serengeti to become satisfied especially for photographic safaris.
Accommodations: Permanent luxury camps and mobile camps, farmhouse accommodation, Safari Lodges, comfortable cottages
Email: [email protected]
Horse riding, ride tours destinations include Zanzibar East Coast, NUngwi Zanzibar, Arusha, and Karatu near Ngorongoro. You can do a beach horse ride with beautiful horses in Zanzibar. Horse riding adventures include equestrian horse riding, stables and how to horseback riding. Tanzania has many camps and horse farms for riding horse training and horseback riding adventures.
There are a diversity of horse riding adventures like an equestrian horse, stables, and lessons how to ride. Horse ride adventures are 2 days horse ride at slopes of mount Kilimanjaro- west Kilimanjaro,4 days Kilimanjaro Wildlife Viewing from Horseback, etc, also you see wild animal big game and birds from the back of your horse – at Mt. Kilimanjaro
With the snow-capped peak of Kilimanjaro rising to your East and Mt. Meru to the West, this safari takes place in one of the most dramatically beautiful settings in East Africa. Game viewing is possible even if you are on a tight schedule.
If you are an experienced rider, we invite you to join us for an unforgettable adventure. As we ride through the African bush, far away from roads and other tourists, we share the pristine habitat with elephants, wildebeests, giraffes, gazelles, and more.
Exploring your environment, bush and game area on horseback is the perfect way to experience the real African Bush!  It is a wonderful experience and we hope you enjoy it as much as we all do!