Joining group Kilimanjaro climbing trips are available now. Kilimanjaro trek join groups are available on the Machame route, Marangu, and Rongai routes. Kilimanjaro Tanzanite Safaris team of guides, cooks, and porters will help you climb Mount Kilimanjaro with comfort. Also, you can form your own group to book a Kilimanjaro trip and get a discount price. Travel agents and mountain guide tour leaders can form small groups and ask for B2B Kilimanjaro prices. Join a group Kilimanjaro climb trip from our scheduled departure dates. You can choose a Kilimanjaro route and tell us your date and then we confirm the tour.
Joining a Kilimanjaro group climb package can provide a more affordable and social experience for those wanting to reach the summit.  Explore different routes and find the right fit for you with our comprehensive guide to joining Kilimanjaro group climbs. Also, a party from a company or an environmental charity is eligible for a discount on Kilimanjaro trek prices.
Budget travel deals are now available to trek Kilimanjaro through the Machame route, Rongai, or Lemosho route.  Reserve your seat and confirm your spot based on your favorite travel dates. The advantage of booking a trip with us is that you get the best quality services. Also, our guides offer you a beautiful climbing services experience. Apart from the Kilimanjaro group climb, you can climb Mount Kilimanjaro on a budget. Climbing Mount Kilimanjaro costs vary from one Kilimanjaro route to another. However, a party of 4 people or more, will get a lowered Kilimanjaro price offer, because they share the cost. Furthermore, a mountain leader, can gather people of the same interest, and get a budget for Kilimanjaro cost.  To get Kilimanjaro climbing packages, contact us now by email or WhatsApp: Email: [email protected]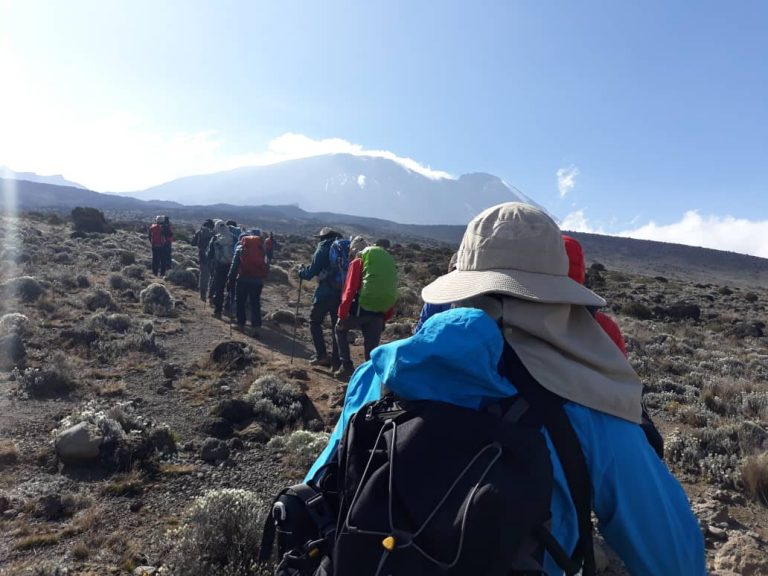 Joining the group on Kilimanjaro trekking adventures is possible on all dates, so it is easier for you to book flight tickets convenient for you. Due to the coronavirus pandemic, now the government has set up safety operating protocols. All possible booking options are available. You can join a group trip or book a private climbing adventure. You can book flight tickets online at Qatar Airways or Turkish Airlines and get season discount promotions.

Kilimanjaro climbing trips for private bookings are also available. If you are already pre-organized as family, friends, or a small group of 2 to 6 people you can book your adventure privately. Furthermore, all Kilimanjaro expeditions are safely organized, and all places are sanitized. Private guided Kilimanjaro trekking adventures are from a party of 2 people, 3 people, 4 people, 5 people, 6 people, or more. Contact us for a price quote and more details. Kilimanjaro Tanzanite Safaris is among the best Kilimanjaro trekking outfitters in Moshi, and check the latest opinions from your fellow climbers at TripAdvisor. 
Summer travel season begins in June for wildlife safaris in Serengeti and sees the great migration. Kilimanjaro adventures begin in the Summer season especially from July to September. It is possible to plan a combo travel package that includes a Tanzania safari and a Kilimanjaro trekking trip. Booking is usually done at least 3 months before the trip date, so if you plan to book a climbing Mount Kilimanjaro tour, April and May is the best time to plan. Travel tips and tourism reviews advise getting price quotes from different Kilimanjaro trekking outfitters and comparing. Climb Kilimanjaro 2022 in the months of November and December, with last-minute offers. The months to climb Kilimanjaro 2023 are January, February, and March, as well as July to October.
When you book a combo tour, you get a discount of up to 10% on both Safaris Tanzania and Kilimanjaro treks. Outdoor travel adventures provided in summer and Gap year season are budget camping safaris; helicopter Kilimanjaro flights, helicopter flights, Serengeti hot air balloon safaris, and wildlife safaris in Tanzania. Kilimanjaro trekking expeditions tour offers are budget travel adventures, Gap Year travel, and outdoor travel packages lifestyle tours. Tanzania safari booking to see wildlife species after climbing Mount Kilimanjaro is a travel deal available for private holidays or joining groups.
Email: [email protected]
Skype: k.tanzanitesafaris